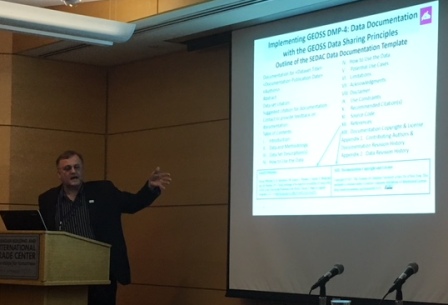 CIESIN senior digital archivist Robert Downs describes SEDAC's data documentation template at the October 23 side event, "Best Practices – Data Sharing and Data Management in GEO," during GEO Week 2017 in Washington DC.
The fourteenth Plenary of the Group on Earth Observations (GEO-XIV) was held October 25-26 in Washington DC, bringing together more than two hundred representatives of GEO Members and Participating Organizations. The Plenary was the centerpiece of "GEO Week 2017: Insight for a Changing World," which included a variety of side events, working meetings, and a public exhibition at the Ronald Reagan Building and International Trade Center. CIESIN director Robert Chen and senior digital archivist Robert Downs represented the International Council for Science (ICSU) World Data System (WDS) at the Plenary, and also contributed to several side events and other activities. On October 23, Chen co-organized the side event, "Best Practices – Data Sharing and Data Management in GEO," during which he moderated the opening panel on "Why Does Open Data Sharing and Sound Data Management Matter?" Downs highlighted activities of the NASA Socioeconomic Data and Applications Center (SEDAC) operated by CIESIN in an afternoon panel, "Best Practices in the GEOSS Common Infrastructure." On October 24, Chen gave a short panel presentation on urban sustainability indicators at a morning side event on "Earth Observations in Service of the 2030 Agenda for Sustainable Development" (EO4SDG). He then co-moderated an afternoon side event on "Sustainable Development on Our Human Planet: The GEO Human Planet Initiative" and gave a talk on translating Earth observations data into actionable information for policy. Chen and Downs also participated in working meetings of the GEO Data Sharing Working Group and the EO4SDG initiative.
GEO is a voluntary intergovernmental partnership of more than 100 national governments and over 115 Participating Organizations that envisions a future where decisions and actions for the benefit of humankind are informed by coordinated, comprehensive and sustained Earth observations. SEDAC is a member of ICSU-WDS and has contributed to a variety of GEO activities and initiatives for more than a decade.