Home Page (MVA) > Integrated Assessment Models (IAMs) and Resources > IAMs Thematic Guide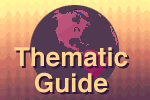 Thematic Guide to Integrated Assessment Modeling
Section 3: Design Issues in Integrated Assessment
This section discusses two kinds of issues likely to arise in any project in integrated assessment. The first are broad issues that must be addressed by any assessment, whether of climate or another issue: the purpose of the assessment, who its audience is, and how it should be bounded and organized. The second are problems of how to represent particular components of the climate issue, which are organized around a conventional causal chain from human activities to impacts. This discussion summarizes the main approaches used to represent each component that are taken by current assessment projects, with particular emphasis on those pieces whose representation poses the most significant challenges.
Purpose, Design, and Other Large-Scale (Non-Representational) Issues --issues inherent to all integrated assessment projects
Representing Components of the Causal Chain for Integrated Assessment
--key issues in integrated assessment of climate change
The next page is Audience, Purpose, and Relationship.
Sources
Parson, E.A. and K. Fisher-Vanden,
Searching for Integrated Assessment: A Preliminary Investigation of Methods, Models, and Projects in the Integrated Assessment of Global Climatic Change
. Consortium for International Earth Science Information Network (CIESIN). University Center, Mich. 1995.
Suggested Citation
Center for International Earth Science Information Network (CIESIN). 1995.
Thematic Guide to Integrated Assessment Modeling of Climate Change
[online]. Palisades, NY: CIESIN. Available at http://sedac.ciesin.columbia.edu/mva/iamcc.tg/TGHP.html [accessed DATE].
Our sponsors: