Home Page (MVA) > Integrated Assessment Models (IAMs) and Resources > IAMs Thematic Guide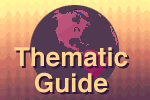 Thematic Guide to Integrated Assessment Modeling
Lawrence Livermore National Laboratory
The Global Climate Research Division of Lawrence Livermore National Laboratory (LLL), in collaboration with other research institutes such as the University of Münster and Exxon Research, has focused primarily on the climate and atmospheric chemistry components of integrated assessment. In particular, LLL has been involved in the development of the Münster Climate Model (MCM) and a model that builds on the foundation of MCM, called the Integrated Science Model (ISM). The Münster Climate Model (MCM) takes estimates of emissions trajectories as input and computes atmospheric concentrations of the greenhouse gases, global mean temperature, and global sea-level rise (
Jain and Bach 1992
;
Bach and Jain 1993
). The five major components of the model include (1) emissions submodules for CO2, CH4, N2O, and CFCs to translate emissions levels into rates; (2) energy-balance and gas-cycle models for CO2, CH4, N2O, and CFCs; (3) atmospheric concentration submodules for the four gases; (4) a radiative forcing module that calculates temperature change; and (5) a sea-level rise module that computes rise from changes in transient temperature caused by thermal expansion and ice melt. The MCM is designed to test whether the resulting temperature change exceeds a critical warming level to determine the emission scenario that will sustain future warming within the acceptable range.
The Integrated Science Model (ISM) improves on the MCM by incorporating recent advances in atmospheric chemistry and radiative forcing, as documented in the 1994 IPCC report. Like MCM, ISM can be used to determine emission rates required to stabilize future global temperature. While ISM currently represents only atmospheric processes, energy-economic and climate-impacts models are now under development to extend it to an end-to-end integrated assessment model. Jain, Kheshgi, and Wuebbles (1994) provide a further discussion of ISM.
The next section is Environmental Protection Agency.
Sources
Parson, E.A. and K. Fisher-Vanden,
Searching for Integrated Assessment: A Preliminary Investigation of Methods, Models, and Projects in the Integrated Assessment of Global Climatic Change
. Consortium for International Earth Science Information Network (CIESIN). University Center, Mich. 1995.
Suggested Citation
Center for International Earth Science Information Network (CIESIN). 1995.
Thematic Guide to Integrated Assessment Modeling of Climate Change
[online]. Palisades, NY: CIESIN. Available at http://sedac.ciesin.columbia.edu/mva/iamcc.tg/TGHP.html [accessed DATE].
Our sponsors: