Home Page (MVA) > Integrated Assessment Models (IAMs) and Resources > IAMs Thematic Guide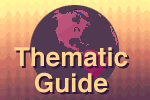 Thematic Guide to Integrated Assessment Modeling
The Asian-Pacific Integrated Model
Japan's National Institute of Environmental Studies (NIES) pursues collaborative research on global environmental change with other ministries, universities, and international research institutes (
Japan Environment Agency 1994
). NIES' center for Global Environmental Research, in collaboration with Kyoto University, has developed the Asian-Pacific Integrated Model (AIM) to study impacts of mitigation and adaptation scenarios in the Asia-Pacific region.
AIM comprises three interlinked modules: an emissions module, a climate module, and an impacts module. The emissions module consists of three separate country models for Indonesia, China, and Japan, which are then combined with an aggregate model of emissions in the rest of the world. These regional models determine anthropogenic greenhouse gas emissions using regional assumptions on population, technological, and economic growth to obtain estimates of energy consumption and land-use changes. Because the regional models are still under development, a more aggregate working version of the emissions module based on the Edmonds-Reilly-Barns model is being used until that work is completed.
Climate scenarios are produced using a variety of existing simple reduced-form models and results from prior Global Circulation Model (GCM) runs. Impacts of climate scenarios are estimated for agriculture, sea-level rise, water resources, public health, regional economics, and natural ecosystems. Impacts are represented spatially using a Geographic Information System (GIS). Development and applications of the AIM model are documented in Morita et al. 1994a, 1994b, and 1995.
For more information and model availability, contact the following:
AIM Project Team
c/o The Global Environment Group
ATTN: Tsuneyuki Moria
National Institute for Environmental Studies
16-2 Onogawa, Tsukuba 305
JAPAN.
The next section is Climatic Research Unit at the University of East Anglia.
Sources
Parson, E.A. and K. Fisher-Vanden,
Searching for Integrated Assessment: A Preliminary Investigation of Methods, Models, and Projects in the Integrated Assessment of Global Climatic Change
. Consortium for International Earth Science Information Network (CIESIN). University Center, Mich. 1995.
Suggested Citation
Center for International Earth Science Information Network (CIESIN). 1995.
Thematic Guide to Integrated Assessment Modeling of Climate Change
[online]. Palisades, NY: CIESIN. Available at http://sedac.ciesin.columbia.edu/mva/iamcc.tg/TGHP.html [accessed DATE].
Our sponsors: