Home Page (MVA) > Integrated Assessment Models (IAMs) and Resources > IAMs Thematic Guide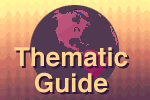 Thematic Guide to Integrated Assessment Modeling
Carnegie Mellon University
The Global Climate Change Integrated Assessment Program at the Department of Engineering and Public Policy (EPP) of
Carnegie Mellon University
includes the development of an integrated assessment model and several related research and assessment projects. Begun in 1990, the program follows a tradition of integrated assessment in EPP that has included past integrated studies of acid rain, 60-Hertz fields, and multimedia pollution issues (
Rubin 1991
;
Rubin et al. 1992
). The current program involves researchers from various disciplines and focuses on three main research areas where the role of uncertainty is emphasized: (1) integrated assessment modeling; (2) public and private decision making and communication; and (3) national and international policy-making.
Morgan and Dowlatabadi (1995) provide a survey of results and publications from the program. Three versions of the Integrated Climate Assessment Model (ICAM) have been developed since the program's inception. Each version has emphasized the role of uncertainty in the climate change program, with the design goal of being able to answer how these uncertainties can be addressed in climate policy making. ICAM is used to display and order knowledge and to identify key uncertainties. The model is not the whole project, because in the view of the researchers some aspects of the system cannot (or cannot yet) be modeled, though the relative emphasis of the program on integrated modeling has increased over time. ICAM has been developed entirely within the project, using the Macintosh modeling environment DEMOS.
The modeling philosophy presented in ICAM could be summarized in the following propositions. Models should be transparent and not too large or complex. Uncertainty should be fully propagated through the model, which requires keeping run times short enough that the implications of uncertainty can be explored through hundreds or thousands of runs. Models should be able to integrate knowledge of very different firmness and kind, including subjective distributions of expert opinion gathered by appropriate elicitation techniques. Models should not produce more precision or detail than present understanding of the most limiting components permits. But within these limits, models should be comprehensive, in the sense of spanning the relevant space of potential decisions and valued consequences.
ICAM-2, the most recent version, models the climate-change issue from end to end for seven world regions (defined by latitude bands), in five-year time steps over the period 1975-2100. The model is richest in its treatment of uncertainties and climate impacts, and most simplistic in its treatment of human emission-generating activities. Of the several hundred parameters in the model, about one quarter are uncertain.
A demographics module generates regional population-growth projections which, with user-specified productivity-growth assumptions, yield projected economic growth. User-specified assumptions of energy-intensity change, and emissions coefficients, yield emission paths for CO2, N2O, CH4, and sulfate aerosols. Atmospheric concentrations are modeled using linear models for non-CO2 emissions, and a linear approximation to a carbon cycle model for CO2, while a simple function drawn from the Intergovernmental Panel on Climate Change translates changes in concentrations into changes in radiative forcing.
Market and non-market impacts of climate change are represented separately. Market impacts, reflecting the value of lost economic output due to climate change, are estimated by region-specific functions of the realized level of radiative forcing and its rate of change, and decline over time due to adaptation. Non-market impacts represent people's subjective valuing of ecosystems and climate, which are not captured in markets. These are also assumed to be increasing functions of radiative forcing, but unlike market impacts they increase over time, reflecting the assumption that environmental concern will increase with rising incomes. A logistic function in the non-market impacts represents upper and lower bounds on people's willingness to pay for ecosystem preservation, which can shift over time. Feeding into the market and non-market impacts are explicit representations of both sea-level and ecosystem change. Sea-level change appears in both the impacts and protection modules, expressed both as lost land area and lost property value. Ecosystem impacts are derived from present data on probability of occurrence of particular ecosystem types under specified climatic conditions, from which are estimated distributions of ecosystem change under specified regional changes in average annual temperature and precipitation.
The model can explicitly represent policies for abatement or geoengineering. Abatement cost estimates are developed from results of the Energy Modeling Forum and from a National Academy of Sciences report ( COSEPUP 1991), with an assumed non-fossil backstop technology available in the year 2025 at roughly five times present oil prices (COSEPUP 1991). Geoengineering policies can be represented as measures to change either the rate of carbon sequestration or the planetary albedo. Adaptation policies are represented implicitly within the impact modules, so they cannot be varied explicitly (Dowlatabadi and Morgan 1993a; Dowlatabadi and Morgan 1993b; Dowlatabadi 1994; Lave and Dowlatabadi 1993). Dowlatabadi and Ball (1994) provide a more detailed description of ICAM-2. Both Ball and Dowlatabadi (1995) and Dowlatabadi and Kandlikar (1995) include results from ICAM-2.
ICAM 2.0 is operational and currently used in various policy studies. Further information on ICAM (including model accessibility) and the Global Climate Change Integrated Assessment Program can be obtained by contacting the following:
Department of Engineering and Public Policy
Carnegie Mellon University
129 Baker Hall
Pittsburgh, PA 15213-3890
USA
Of other parts of the integrated assessment project, some involve separate modeling exercises concentrating on a particular aspect of the problem. Several are loosely coupled to the ICAM model, developing in parallel along two tracks: their main analytic work and a reduced form that is represented in the corresponding section of ICAM.
Principal other pieces of the integrated assessment project include the following: elicitation of expert distributions of key uncertain parameters in atmospheric science, ecological impacts, and socioeconomic impacts (Morgan and Keith, forthcoming); a series of studies of lay understanding of the climate issue, now being used to develop a set of public communication brochures; estimation of the costs and effectiveness of geoengineering options; study of adaptation strategies for coastal protection; adaptation of a model of tree growth under atmospheric pollutants and climate change to represent shifts in forest ecosystems at continental scale; use of land-cover data to develop fine-scale (0.5-degree) empirical distributions of ecosystem type conditional on climate; and development of a dynamic alternative to GWPs from an optimal-control formulation of the optimal emissions time-path (Bostrom et al. 1994; Read et al. 1994; Keith and Dowlatabadi 1992; and Kandlikar, Patwardhan, and Dowlatabadi 1993).
The next section is Massachusetts Institute of Technology.
Sources
Parson, E.A. and K. Fisher-Vanden,
Searching for Integrated Assessment: A Preliminary Investigation of Methods, Models, and Projects in the Integrated Assessment of Global Climatic Change
. Consortium for International Earth Science Information Network (CIESIN). University Center, Mich. 1995.
Suggested Citation
Center for International Earth Science Information Network (CIESIN). 1995.
Thematic Guide to Integrated Assessment Modeling of Climate Change
[online]. Palisades, NY: CIESIN. Available at http://sedac.ciesin.columbia.edu/mva/iamcc.tg/TGHP.html [accessed DATE].
Our sponsors: