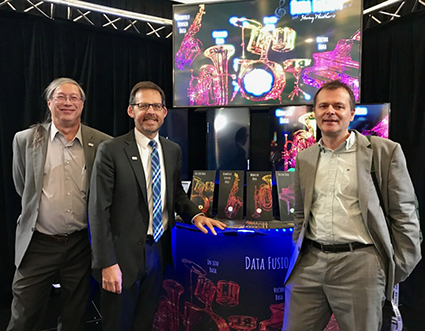 Lea Shanley

CIESIN director Robert Chen (left), Lawrence Friedl, NASA, (middle) and Steffen Fritz, IIASA, were participants in activities related to GEO Week 2019, held in Canberra, Australia, November 4–8.
The Group on Earth Observations (GEO) held its sixteenth plenary session and the 2019 Ministerial Summit and Roundtable in Canberra, Australia, as part of GEO Week 2019, November 4–8. The week brought together more than 1,400 representatives of GEO Member governments and GEO Participating Organizations. CIESIN director Robert Chen served as the head and only delegate of the UN Sustainable Development Solutions Network (SDSN), in his capacity as a co-chair of the SDSN Thematic Research Network on Data and Statistics (TReNDS). SDSN recently joined GEO as a Participating Organization. Senior digital archivist Robert Downs represented the International Science Council′s World Data System (ISC-WDS), which includes the NASA Socioeconomic Data and Applications Center (SEDAC) operated by CIESIN as a regular member.
On November 4, Downs participated in a workshop, "Data for Our Planet," which was co-organized by the Earth Science Information Partners (ESIP) and held at the Australian Academy of Science. He gave the presentation, "Infrastructure for Enabling the Use of Integrated Earth Science Data by Heterogeneous Communities.″ On November 5, Chen served as a panelist in a targeted side event, "Earth Observations and Modeling: Dialogue for Added Value and Knowledge,″ that he helped organize with Danielle Wood and William Sonntag of the Massachusetts Institute of Technology (MIT). He also participated as a panelist in the key side event, "Delivering on the Sustainable Development Goals,″ moderated by Argyro Kavvada and Lawrence Friedl of NASA Applied Sciences. On November 5 Chen and Downs led and organized a meeting of the new joint GEO Data Sharing and Data Management Principles Working Group. They also participated in meetings of the organizing committee for the GEO Data and Knowledge Week, to be held in Beijing in February 2020. Information about SEDAC and a use case of the SEDAC Population Estimation Service integrated into the GeoCollaborate tool were featured at the US GEO exhibit, which had a "Jazz Observatory″ theme.