Fourth Assessment Report (AR4) Observed Climate Change Impacts, v1 (1970 – 2014)
IPCC Fourth Assessment Report (AR4) Observed Climate Change Impacts Database
Recent warming around the world has caused changes in many physical and biological systems. The Intergovernmental Panel on Climate Change Fourth Assessment Report and Rosenzweig et al. (2008) documented observed responses to climate change across a wide range of systems as well as regions [1, 2]. In the database, responses in physical systems include shrinking glaciers in every continent, melting permafrost, shifts in spring peak river discharge associated with earlier snowmelt, lake and river warming (with effects on thermal stratification, chemistry, and freshwater organisms), and increases in coastal erosion. For terrestrial biological systems, changes documented in the database include shifts in spring events (e.g., earlier leaf unfolding, blooming date, migration, and timing of reproduction), species distributions, and community structure. Database observations also demonstrate changes in marine-ecosystem functioning and productivity, including shifts from cold–adapted to warm-adapted communities, phenological changes and alterations in species interactions. In each category, many of the data series are over 35 years in length.
For the database, observations were selected that (1) demonstrate a statistically significant trend in change in either direction in systems related to temperature or other climate change variable as described by the authors; and (2) contain data for at least 20 years between 1970 and 2004 (although study periods may extend earlier or later). For each observation, the data series is described in terms of system, region, longitude and latitude, dates and duration, statistical significance, type of impact, and whether or not land use was identified as a driving factor. System changes are taken from ~80 studies (of which ~75 are new since the IPCC Third Assessment Report) containing >29,500 data series. Observations in the database are characterized as a 'change consistent with warming' or a 'change not consistent with warming,' based on information from the underlying studies.   
The locations of the observed physical and biological changes were overlaid on observed temperatures from 1970-2004 using two different gridded observed temperature data sets: HadCRUT3 [3] and GHCN-ERSST [4]. A spatial analysis showed that the agreement between the patterns of observed significant changes in natural systems and temperature change is very unlikely to be due to natural variability. Thus, the Intergovernmental Panel on Climate Change Fourth Assessment Report and Rosenzweig et al. (2008) concluded that it is likely that anthropogenic warming has had a discernable influence on many physical and biological systems at a global scale.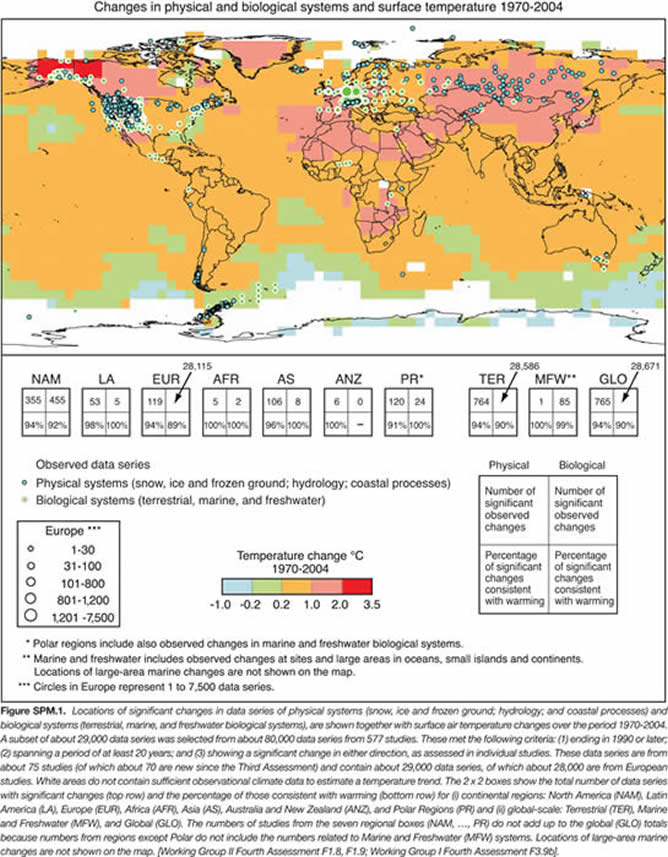 The related IPCC Fourth Assessment Report (AR4) WGII Summary for Policymakers (923 KB PDF) and the Technical Summary (10.3 MB PDF) are available online.
The original database was constructed at GISS with contributions from IPCC AR4 WGII Chapter 1 Authors. This version 1.0 of the database was compiled by a GISS-CIESIN team and was reviewed and approved for publication at the IPCC Data Distribution Centre (DDC) by the IPCC Task Group on Data and Scenario Support for Impact and Climate Analysis (TGICA) 15th meeting at Geneva, Switzerland, on 19-21 November, 2008.