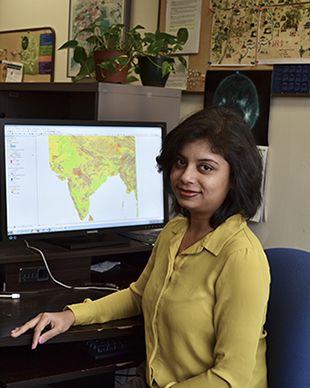 Credit: Chandranath Basak
CIESIN senior research associate Pinki Mondal has been featured in a NASA Earthdata user profile published online May 24. The user profile is part of a regular series about users of NASA earth science data. Mondal combines remotely-sensed data with census and other data to study the effects of climate change on agricultural systems and communities. Her current research focuses on smallholder farms in tropical countries that can be especially vulnerable to climate variability and to impacts from socioeconomic factors such as urbanization and government policies. She utilizes microwave satellite data, Synthetic Aperture Radar (SAR) data, and high-resolution optical satellite data from a variety of sources to help characterize land use/land cover changes over time in relationship to climate and other factors.
For the NASA Socioeconomic Data and Applications Center (SEDAC) operated by CIESIN, Mondal has had lead responsibility for establishing the India Data Collection, which currently consists of the India Village-Level Geospatial Socio-Economic Data Set:1991, 2001 and the India Annual Winter Cropped Area, v1 (2001–2016). She also led development of the Global Summer Land Surface Temperature (LS) Grids, v1, and helped develop the Global Urban Heat Island (UHI) Data Set, v1 (2013), as well as other SEDAC data sets.
In August, Mondal will begin a position as assistant professor in the Department of Geography at the University of Delaware in Newark, Delaware.